Trucks hauling waste and materials for recycling are not usually noted for their high specifications and immaculate liveries, but with a dedicated fleet manager onboard, Aberdeen based EIS Waste Services has rewritten the book on refuse and skip vehicle standards.
With the full support of EIS Waste Services' managing director Neil Sharp, transport manager Raymond Henderson has produced a truck fleet second to none, with safety as a top priority.
The company's extensive use of Brigade all round cameras has slashed insurance costs, whilst enhancing pedestrian and driver safety in urban operations.
EIS Waste Services were also one of the first waste operators to realise the environmental potential of drawbar vehicles for skip works.
At present EIS Waste Services operate around 30 trucks and the sheer variety of collection types possible by the company has helped it expand steadily.
Aberdeen based Raymond Henderson lifted Scottish Fleet Manager of the Year award at the annual Transport News Scottish Rewards presentation ceremony held in Glasgow on Friday 6 November.
The popular breakfast celebration, now in its 22nd year attracted 600 road haulage industry guests and filled the banqueting suite of the Crowne Plaza Hotel.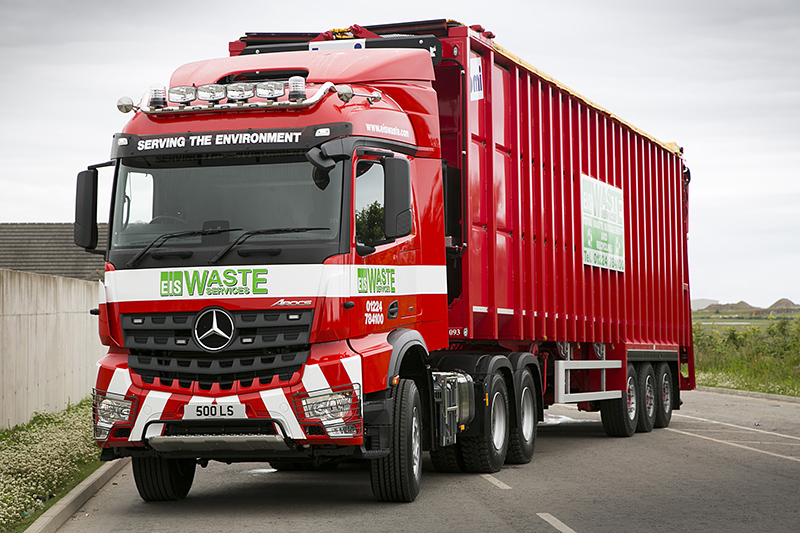 EIS Waste Services Mercedes AROCS 500 LS
November 2015 – Local Man Wins Top Industry Award