The EIS WASTE SERVICES Skip Range
EIS Waste supply commercial or domestic customers with a wide range of skips – from mini-skips suitable for garden waste up to industrial container-sized skips capable of dealing with large-scale demolitions. All our skips are delivered to your site and collected when they are full or when you have finished with them.
Ordering a Skip? What size do I need?
We describe the capacity of our skips in cubic yards/metres. Be realistic when estimating how much waste you want to dispose of, since hiring a second skip can be far more costly than one big one! Remember that all skips must be level-loaded so that they can be legally transported on the road.
For a large waste collection, it might be worth considering a very large on-site container. Please call for more information
Where can the skips be placed?
Most customers have their skips placed on their driveway or land but, where this not possible, skips can be legally placed on the public highway or on a verge. However, skips placed on a public road must have a pre-applied Highway Permit from the local Council Authority and must have the correct signage and lights. (The grass verge outside your house may not be owned by you and therefore you may need a permit.) Please allow Three working days for a road permit to be granted. We cannot deliver the skip before the permit has been granted.
What access do I need to provide?
All our skips are delivered on large vehicles, normally requiring 2.9m (9ft 6in) clearance. If you are unsure, please contact us on 01224 784100 or email us info@eiswaste.co.uk.
What can I put in it?
Skips are for general and inert waste only, so fridges, TV's, monitors and hazardous waste, such as paints, solvents, liquids, plasterboard or asbestos, must not be placed in them. If you are not sure please contact us on 01224 784100  or email us info@eiswaste.co.uk.
* 14yd Skips are not suitable for Soil and Rubble (heavy materials)
The Dos and Don'ts of Skip Hire
DO order the right size
It is important to order the correct size of skip. On one hand, ordering one that's too small can cause issues. If you overfill your skip, the skip hire company will refuse to take away your skip, or fine you. You may even have to buy another small skip for the excess. On the other hand, ordering a skip that's too big can mean spending more money than you need to for extra space you don't use. Especially if your bigger skip needs a permit which incurs extra costs. It's best to thoroughly research the skip sizes available to ensure you make the right decision for your waste
DO dispose of these items
Skips CAN contain all of the following items: Bricks & Rubble, Metal, Non-Electrical Fittings, Construction Waste, Soil, Garden Waste, Wood, Domestic Waste, Furniture and Plastic. Today, most skip waste ends up recycled
DO get your paperwork
If you park your skip on a public road it will need a permit from the local council. These can take up to 3-4 days to obtain and cost £48. Permission is not needed if you are keeping the skip on private land. Failure to comply with this incurs a fine, on top of the original price of the licence. EIS Waste Services Ltd will sort out the paperwork for you – but it's always best to check to avoid fines!
DON'T put these items in your skip
Your skip CANNOT contain Hazardous Waste, Asbestos, Batteries, Electrical Items, Fluorescent Bulbs, Chemicals, Paint, Tyres, Medical Waste or Compressed Gas Cylinders. You will need to find a separate waste management solution if you want to dispose of any of these materials. If you have any of these items we can dispose of them at an extra charge please call the office for further advice.
DON'T forget delivery
Make sure you've considered when, where, and how your skip is being delivered to minimise disruption. Will a lorry fit through your driveway? If there's a gate are you around to unlock it?
If you are unsure, we are here to help call us on (01224)784100 for further advice
View our Skip Hire Terms & Conditions
Skip Loader
The Skip Service is one of the most extendable collection services for heavy or bulky waste and recyclables.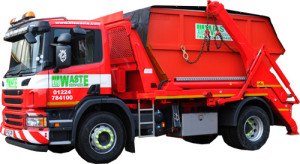 Skip Loaders are trucks designed to carry regular sized skips, suitable for the collection of both domestic and commercial waste.
Once an order for a skip has been placed a skip loader will be dispatched to your commercial or residential location. You are free to fill the skip in your own time. Once filled, the skip is either replaced with an empty skip or removed to be emptied and its contents recycled.
Skips can be requested on an ad hoc basis or through a hire contract and collections can either be scheduled or collected on request.

EIS Waste Services is a trading name of EIS Waste Services Ltd – Registered in Scotland SC254990
Registered Office Gallowhill Recycling Centre, Checkbar Nigg, Aberdeen AB12 4LP