EIS Waste Services Ltd are delighted to announce the arrival of our two new Doosan DX180LC material handlers to work at our recycling centre at Gallowhill, Aberdeen.
The machines were purchased from Craig Mann of local Doosan dealer Balgownie Ltd and represent another significant investment in our state of the art recycling operation.
Equipped with Kinshofer GmbH selector grabs they will be used to further enhance our segregation and recycling capabilities and meet our diversion from landfill targets.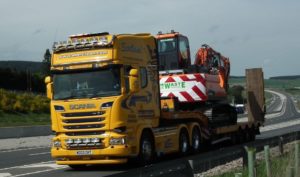 One of our new Doosan DX180LC material handlers is pictured being transported on the Aberdeen Bypass to its new home at our Gallowhill Recycling Centre by Aberclean Plant and Sweeper Hire LTD Picture thanks to Sandy Innes.
The machines began working at our facility week commencing 25th May 2020 and are pictured below operating our wood shredding operation, loading our Ejector Trailer with Waste to be transported to our Final Disposal route at the Energy from Waste Facility and working in our sorting shed segregating black bag commercial waste.
EIS WASTE SERVICES PUT FAITH IN DOOSAN