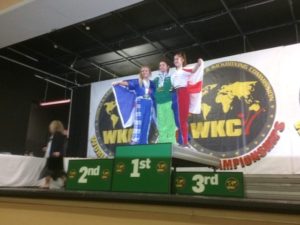 EIS Waste Services sponsored local Kickboxer Chloe Henderson travelled to Dublin last month to represent Scotland again at the WKC World Championships held in the City West Hotel.
Chloe fought in Points fighting, Light Contact fighting and also part of a team fight with 2 of her Scotland teammates Erin Robbie and Cara Coull.
The three girls defeated England in their Quarter Final With Erin winning the opening fight and Chloe winning the 2nd fight to progress 2-0. They then fought against the home nation Ireland in the Semi Final but lost the opening fight and a very close 2nd fight however the girls secured a Bronze Medal for their efforts.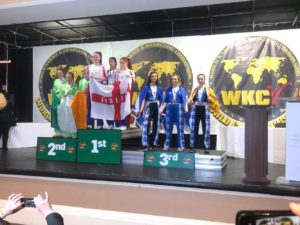 Chloe lost her individual Points Quarter Final to Canadian Genevive Lambert meaning no points medal. She then went on to fight in the Friday Finals Day in her Light Contact Continuous fighting where she met a girl from Ireland in a keenly contested fight to be crowned World Champion, Chloe lost the 1st round but won the 2nd reverting to the scorecards where she lost out for the title meaning she came home with a Silver Medal.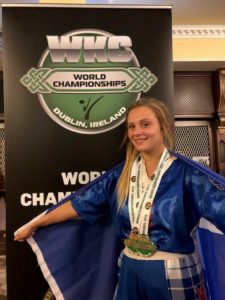 Also when Chloe was in Dublin she had the opportunity to have a one on one session with Womans World Champion Morgan Plowden from the USA as part of her trip and Chloe took away some great tips from a true Kickboxing Star.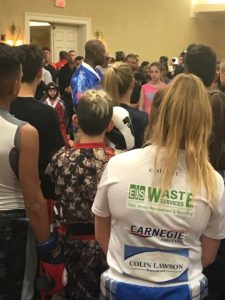 Chloe continues to fight for her Club Lions Den Martial Arts, Stonehaven and will travel to the Watford Open in January for her next competitive fight.
CHLOE WINS SILVER AND BRONZE FOR SCOTLAND